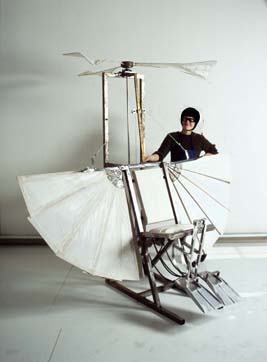 cv
Charlotte Petersen
Nr. side Alle 2, 4sal th.
2200 Kbh. N
Tlf. 35 39 94 87
Kunstmaskinen@hotmail.com
Education :
1984-1992
Academy of fine art Beaux-art, Paris France
1986
Academy of fine art in Karlsruhe, student of Professor Per Kirkeby, Germany
Exhibitions:
1995
Tolkammeret.Helsingør Contemporary Art centre, Installation and sculpture, Helsingør. DK.
1997
Museum of Sofhieholm, Installation, paintings and sculpture Lyngby-Cobenhagen.DK.
2001
Nicolaj, Copenhagen Copenhagen Contemporary Art centre. (with Christian Clausen) Copenhagen, DK.

Brandts Klædefabrik, Odense Contemporary Art centre. ( with Christian Clausen) Odense, DK.

Sybaris, Baltic Contemporary Art Biennial Sxczecin. Polen

2002
The museum of Sønderjylland. ( with Christian Clausen) Tønder.Dk.
2003
The Modern Museum of Art .Riga ,Latia.
2004
The James Hockey Institut, Surrey. UK
2006
The Tulipe House Carlisle. UK.
2007
Traneudstillingen. Gentofte Art Library. Installation. Copenhagen . DK.

Helsingør Library. Installation. Dk.

Hillerød Library. Installation. Hillerød. Dk.

2008
Project "Art in the city space" Installation in the airport of Bydgoszcz Organizer: BWA Gallery in Bydgoszcz. Polen.
Selected group exhibitions:
1996-97
Workshop with African Artist in Tanzania
Exhibition in Arucha Townhall and Dar El Salaam townhall ,Tanzania
Financed by the Danish ministry of Culture and foreign affairs

Senografy to the theaterplay "En sommerdag på Bulbjerg " by Vivian Nielsen

1997
Symposium of woman artist, Exhibition in the Town hall of Baden Euchenhafen, Germany
1998
Selected to The Autumn Exhibition. Sculpture and paintings (Cat) Copenhagen, DK.
1999
The Union of Art in Bergen" The body in art" Installations and paintings . Bergen, Norway'

Selected to The Ester Exhibition. (Cat) ( Installation with Christian Clausen),Århus, Dk
Selected by the Ester exhibitions jury to design the invitations carte and poster to the exhibition.

2000
The museum " Silkebog bad". (Cat) selected by The Artist group "Silikaden" to be the guest exhibitor of the ears . Installations .Silkeborg, DK.
2003
Art and money.Objekts (Cat) Øsknen hallerne K.B.H. DK.

Copenhagen Jazz festival. Installation and performance.

"Salon Olga" with Henrik Nordbrandt og Thorsten Heøg.. "Huset" K.B.H. D.K.

Galleri Projekt. With Peter Brandt, K.Karlson og Tomas Lagerman Lundme. Objekts and paintings K.B.H. DK.

2004 and 2005
Veksølunds summer exhibition. Sculpture (Cat) Veksø. DK
2005
Röda Sten " Faunomania (Cat).Interaktive objekts. Gruppe udstilling. Göteborg. Sverige.
2006
Project "Art in the city space".(Cat)
Interaktive objekts. Organizer: BWA Gallery in Bydgoszcz. Polen.

architecture and sport
the Royal Danich Arcademy . Cobenhagen D.K.